---
C6 Corvette Version 2 PAL
Personal Audio Link
(updated 2/15/16)
---
Click here for my main website
---
PLEASE READ!
Product Availability Update as of 2/15/16
PALs
I'm out of Version 2 PAL kits, and I still don't have an ETA for my order. Here's what's going on. I paid for 100 more PAL kits in December 2012, and I never got them. But I've been communicating again with Andrew Carrington, the CEO of Mediatronics, and he promised me my order. Last year, GM contacted Mediatronics and placed an order for another 400 Corvette PALs, providing Mediatronics with the two key circuit board components. Mediatronics has shipped some new PALs to GM, but GM's cost has doubled and therefore their retail price has gone from $195 to $395! So you can PALs from GM, but the "going price" is now around $330 instead of the old $150 or so. Dealer cost is around $275.
Mediatronics still owes me the 100 I paid for in 2012, and I'm keeping my fingers crossed that I'll get them. Every so often I'm able to talk to Andrew and he tells me he will fulfill my order, but who knows? I'm still hopeful anyway.
So far, I'm still out of luck, but if you can get your hands on an original PAL, I can upgrade to Version 2 for you.
Until I can get a definite confirmation and ETA from Mediatronics, I don't want to accept any more Version 2 PAL orders at this time. I've had to refund customers who have ordered Version 2 PAL kits, so I'd prefer not to have to do that. If I can get the PALs again, I'll post on this website.
BUT,
in the meantime, if you are lucky enough to find one, the fastest way to get a Version 2 PAL is to find an original (Version 1) PAL at a dealer or other online source, and I can upgrade it for you. Be sure you order the correct part number, GM P.N. 17800593. Some original PALs have resurfaced at some GM dealers - click on the "upgrade page" below for details:
Click here for more details about obtaining and upgrading an original PAL kit
You will need my special installation harness to replace the one in the Version 1 PAL kit and a software upgrade to get the features offered with the Version 2 kits. You can order my harnesses and software upgrades in the Components Only section of the Ordering Page. I'm out of the 5 volt iPod cables, but I have OEM cables that charge 12 volt only. If you order a Version 1 PAL kit from someone else, you can have it direct shipped to me if that is convenient for you, so I can upgrade the software in the module. If you go this route, please have them put your name somewhere so I'll know who it's for.
You might also be able to find used PALs on ebay and other sites. Just be sure to get the correct part number and ascertain why the person is selling it - you don't want to get a defective one. But if he or she is selling it because they traded cars or some other reason, the used PAL is probably OK.
As an alternative to the Version 2 PAL, you might want to consider the USA Spec PA15-Vette iPod adapter. But the Version 2 PAL is still the premier iPod adapter for the C6 Corvette. Click HERE for a new review of the PA15-Vette.
You might also want to consider one of my auxiliary in harnesses below. Since I build these myself, I can ship them quickly.
http://www.kawal.net/auxinput.htm
An auxiliary input harness combined with a Bluetooth adapter is a nice alternative to a PAL, and considerably less expensive.
General Information
The Version 2 PAL will work for all C6 factory Nav radios and all C6 factory non-Nav radios with or without XM. For early C6 non-Nav radios without XM, I will ship a software version which includes a radio unlocking code to create an XM band on your radio. Please email me if you have an early non-Nav radio without XM so I will be sure to send you the correct software.
I have both Standard and Premium XM installation harness options as described below.
For owners of the original GM PALs, you can order software upgrades that will make your PAL identical to the new Version 2 PALs.
Note for owners of other non-Corvette Class 2 vehicles, you must email me first so I can be sure to have the correct installation harness and/or software for your PAL.
For European customers, the European UL2 option has a different firmware for the European frequencies and your radios will not recognize a PAL or an XM band. So the only option that I know of is to replace the factory Navigation radio with one of the new 2011-13 factory Nav radios with a USB interface as well as an auxiliary input built in. Click HERE for details.
---
What is a Version 2 PAL?
Quite simply, it is the best iPod interface available for a C6 Corvette. When the 2005 C6 Corvette came out, neither the factory Navigation radio nor the non-Nav radios had any sort of way to connect the popular Apple iPod devices to the car's audio system. Millions of people use the iPod to store and play their own music playlists, and most modern vehicles now include various interfaces that allow car owners to play their iPods and iPhones while they are driving. GM soon learned of their premier sport car's deficiency and promised an iPod interface called the Personal Audio Link, or PAL.
But GM moves slowly, so meanwhile, aftermarket manufacturers started building iPod interfaces for lots of vehicles lacking the ability to connect an iPod, including the C6 Corvette. By early 2009, the promised GM PAL was still not available, and many Corvette owners gave up on the PAL and bought the various aftermarket adapters. None of the aftermarket adapters were great, but they were adequate, and owners on the Corvette Forum voiced their opinions about this one and that one. Since none really stood out, C6 owners were constantly wondering which one they should buy.
In April, 2009, I had to have one too, but like everyone else, I wondered what to buy. I decided to contact the manufacturers of all of the available aftermarket iPod adapters and see if they were interested in providing their adapter for a review I was planning. Since a thorough comparative test had never been done, all of the manufacturers were eager to be included in the review. I received their sample products, installed each of them in my own '07 Z06 Corvette with the factory Navigation system, then operated them to see what features each of them had and how well they worked. You can read that review by clicking HERE.
Although many Corvette owners gave up on GM, the GM PAL finally became available in August, 2009, as part number 17800593. But it was only available for 2008 and later C6s with the factory Navigation radio and XM radio, plus it was meant to be a dealer installed accessory with a comparatively difficult installation. Needless to say, thousands of owners of 2005-2007 Corvette owners were disappointed again. From my experience with the aftermarket iPod adapters and from looking at the electrical information available in my Corvette Service Manuals, I couldn't see a reason why the GM PAL wouldn't work in my '07 C6. So I bought one to see how it compared to the aftermarket adapters, especially the one I was using at the time. The first thing I learned was that it was an awful job to install the original PAL. It took me about five hours and required me to splice into the factory wiring harness. Most of the aftermarket adapters (but not all) allowed a simple connection at the XM Satellite receiver which is very easy to access in a C6 Corvette. And here I was tearing out the left, right, and center sections of my dashboard just to install this new PAL. What a job! Few owners would want to do this!
After the grueling installation and putting my car back together again, I was pleasantly surprised with the result. While GM missed the mark on installation, they had created an excellent iPod interface, clearly superior to any of the aftermarket adapters. While all of the aftermarket adapters had "generic" button interfaces you would have to memorize to perform a function, the PAL was specifically designed for the Corvette Nav radio so it was like a factory interface. You pressed a button that said "Artist" instead of some generic label like "P3". Plus it interfaced with the HUD in the windshield. It was a well designed iPod interface built especially for the C6 Corvette. I added these positive results to my earlier review and posted the results on the Corvette Forum. This generated a lot of interest and questions about the PAL and the other aftermarket iPod adapters.
But the main problem with the PAL, even though it was clearly superior to the aftermarket competition, was the difficult installation. Not many owners wanted to take their Corvettes into a dealer and pay some technician they didn't know a lot of money to tear apart their car. And not many owners wanted to tear their own cars apart just to add an iPod interface. Through the Corvette Forum, I was able to find and begin communicating with the GM engineer in charge of the PAL project. After some involved discussions, I was able to obtain the wiring information for the PAL and how it integrated with the Corvette body wiring. Being familiar with the aftermarket devices, I could see that the PAL wiring could be modified to enable a simple installation at the XM receiver, similar to some of the aftermarket adapters. All of the necessary wiring for the PAL was available at the XM receiver, so why in the world would GM force you to tear into the dash and connect at the radio and make splices into the Class 2 communication wiring? There was no satisfactory answer, so I decided to build a wiring harness that allowed the PAL to be installed at the XM receiver. With this installation, which can be completed in as little as five minutes without any tools, the completely reversible PAL installation could be done by anyone.
On the Corvette Forum, I asked how many other owners would be interested in a PAL if I could provide a harness to allow this simple installation. Immediately, owners responded positively, and I started building harnesses for other Corvette owners. Corvette PAL sales also picked up because owners could now buy an accessory that they could easily install and have the best iPod interface available. I began offering these harnesses for the original PAL and they became very popular. In fact, they became too popular and I found too much of my time was spent building PAL harnesses. I'm a retired engineer and I want to be driving my Corvette, not stuck in my shop building wiring harnesses all day! As I continued my communication with the GM engineer, what I was interested in was talking to the company who designed and manufactured the PAL for GM, a company now known as Mediatronics. I wanted to talk to them about selling me their PAL installation harness so I could modify it for an XM installation. These installation harnesses were high OEM quality, but they needed different connectors and wiring to accomplish my goal. If I could obtain their harnesses, it would be much easier to modify theirs than building my own, plus the product would be better quality. After some time, I finally contacted Andrew Carrington, the CEO of Mediatronics, and our first telephone discussion lasted two hours. I immediately found him to not only be extremely intelligent and knowledgeable about his product, he also was very receptive to new ideas in order to improve his product. My wife and I drove our Corvette down to southern California to meet Andrew, and we began a friendship and business relationship that continues today.
Andrew and I discussed in detail what is great about the PAL and what could be improved upon. As a result of those discussions, new software was developed that offered more features, better operation, and expanded the application of the PAL to all C6 radios - Nav and non-Nav, XM or no-XM. Plus a new iPod cable was developed that would charge all of the latest iPods and iPhones, something that the original PAL still can't do. GM is still selling the original part number 17800593 to Corvette owners. It still has the original software, original wiring harness, and the original iPod cable - not one improvement has been made! I now offer new and better XM installation harnesses, new 8' iPod cables that will charge the latest iPods and iPhones, and software upgrades so original PAL owners can enjoy the additional features and better performance of the Version 2 PALs. But the obvious best deal for any C6 owner is the Version 2 PAL kit that includes all of these "goodies" in the kit, instead of buying an antiquated kit from GM and having me upgrade it.
So read on, and see what the Version 2 PAL kit will do for your C6.
---
I just finished testing the latest Nav version of the new PAL software. It's the best yet!


Click here for a page describing the operation of the new Nav version.
And you will also like the non-Nav PAL software with "Q-Links":


Click here for a page describing the operation of the new non-Nav PAL .


Click here for an Ordering page for the new PAL kits, components, and other harnesses.
The Ordering site will allow payments by credit card, Paypal, or checks.
*****
Click here for installation instructions and examples for the new Version 2 PAL
*****
Click here for downloads of Version 2 PAL Owners Manuals and Installation Sheets
*****
Click here for a comparison between the original PAL available from GM and the Version 2 PAL kits
---
The Version 2 PAL Kit: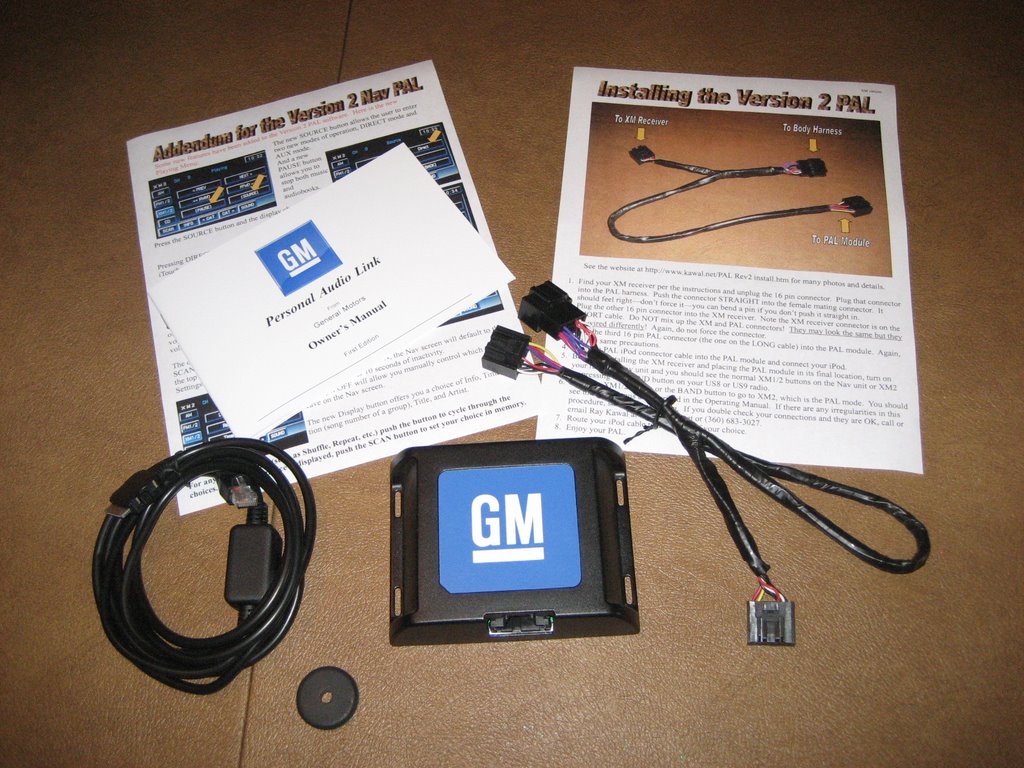 NEW FEATURES (compare to original version PALs):
1. Works with all Nav and non-Nav C6 radios.
2. Works with XM or non-XM equipped C6 Corvettes.
3. Simple installation with an easy connection at the XM Receiver, if equipped with XM or the XM harness is present.
4. New longer 8' iPod cable with 5 volt charging of all newer iPod, iTouches, or iPhones.
5. A new PAUSE button is featured in the Playing menu.
6. Direct Mode is now incorporated into the software, allowing you to control your device from the device itself.
7. The Auxiliary In feature of the PAL is enabled, allowing the use of other music devices.
8. Menus have been improved with additional features for a better user interface and more user control.
9. Revised software to eliminate some issues with operation slowdown when using large format hard drive iPods (such as the 80 gb and 160 gb Classic) with large music libraries and also resolves some past issues with PAL lockup when buttons are pushed too quickly and overload the XM communication path.
---
---
Here's the new 8' iPod cable with 5 volt charging capability: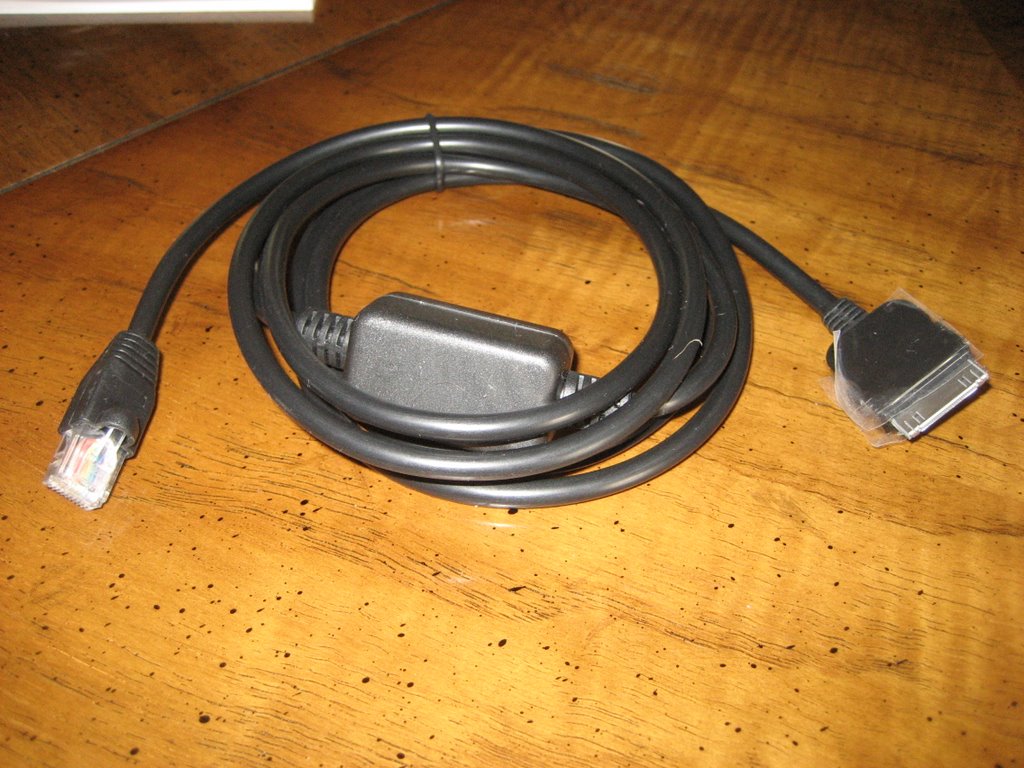 These cables are included in all new version 2 PAL kits.
For those who already have a PAL installed, I have these new 5 volt iPod cables available for $25 each.
They work great, and they click into the Ipod nicely as well.
Here's the installation harness that allows you to connect the PAL at the easy-to-get-to XM receiver: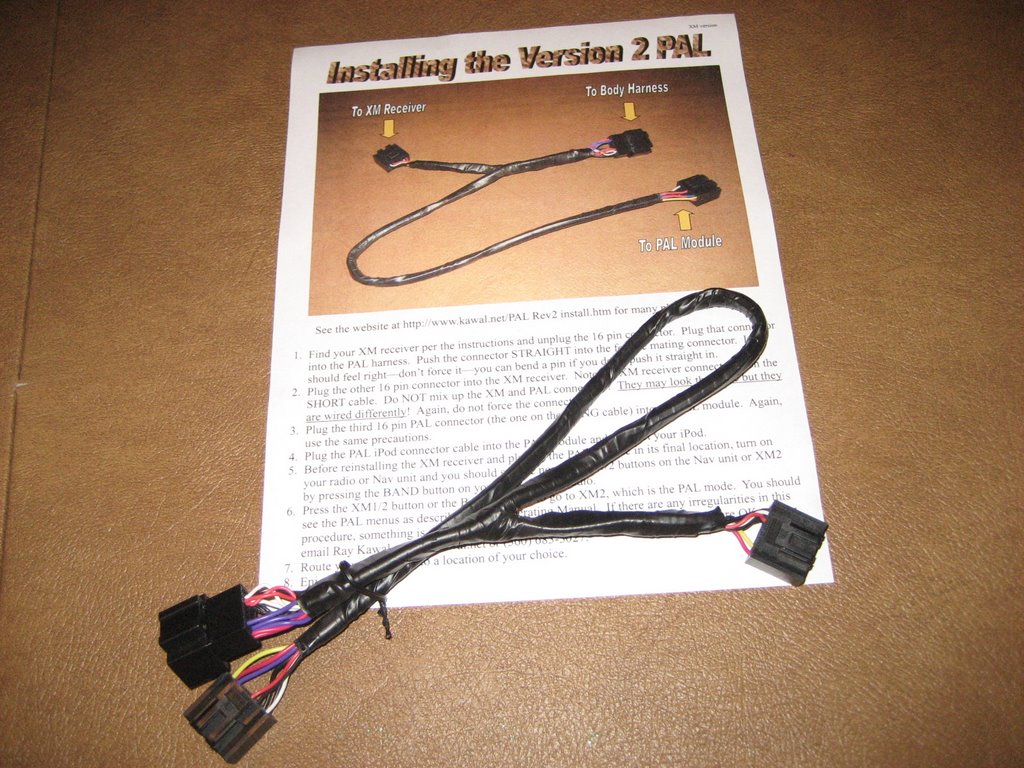 I'm now including a new standard installation harness that is fully wrapped, as shown above.
Note the installation instructions are on ONE PAGE!
You can have your PAL operating in 5-10 minutes, instead of spending 5+ hours tearing your dash apart and cutting into your factory wiring harness!
Here is the front of the PAL module: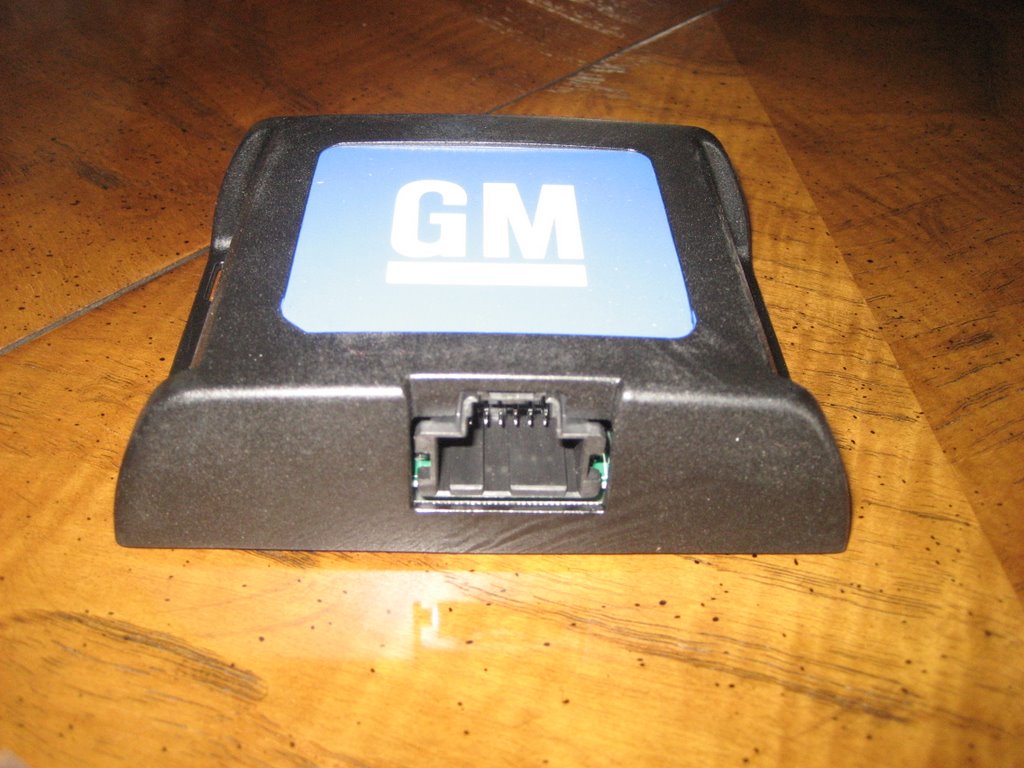 The exterior is identical to the original version PAL.
Although not visible, the only difference between the original PAL module and the new one is the revised software.
Here is the rear of the PAL module: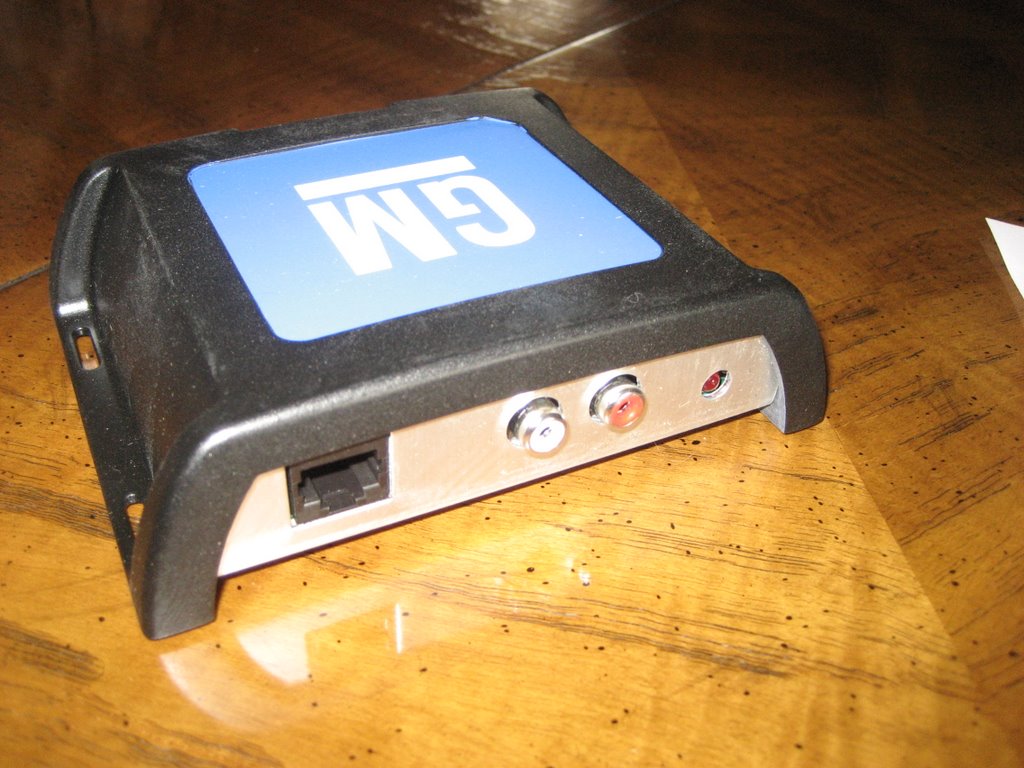 Connect the iPod cable on the left. Unlike the original PAL, the two RCA jacks are enabled with the new software as Auxiliary In.
This will allow you to connect the audio from other music devices into your Corvette audio system. It can also be used to connect you cellphone headphone output to make your cellphone somewhat "handsfree".
---
---
OK, what's included in the kit and how do you get one?
PAL kit contents:
1. PAL module. The PAL module is the interface with revised software that will detect whether or not you have XM. The interface will display the song information and allow you to select songs, playlists, albums, artists, etc. (See the links above for online descriptions with photos.)
2. Operating Manual. The operating manual for Nav equipped cars will be the same as the original manual (shown in the kit photo). A one page supplement sheet will be included to activate the new Direct Mode and Auxiliary In features. The operating manual for non-Nav equipped cars is a two page interim manual because the final manuals have not yet been printed. You can download the manuals at the links near the bottom of this page.
3. 8' iPod cable with 5 volt charging capability for all of the newer iPod, iTouch, and iPhone products. Any iPod product that can connect to your computer with USB will be charged with this cable. A rubber grommet to fit a 1" hole will also be included in case the owner decides to route his iPod cable through a console wall.
4. Installation harness. The installation harness shown in the kit photos will allow you to connect the PAL module next to the XM receiver, which is easy to get to in all models (behind the waterfall in convertibles and above the left rear wheel well in coupe/Z06s). If you do not use XM or you do not have an XM receiver, but DO have the XM cable to the receiver area, I will substitute a simpler harness than the one shown (more photos later). If you do not have the XM cable, you will have to use the original PAL harness that connects to the back of the Nav or non-Nav radio, but you will NOT have to connect the "dreaded" XM wire. I can supply any of these cables, depending on your needs. (Please see the installation instructions link near the top of this page.)
For those interested, I also have a "Premium" harness described on the following website:
http://www.kawal.net/premium.htm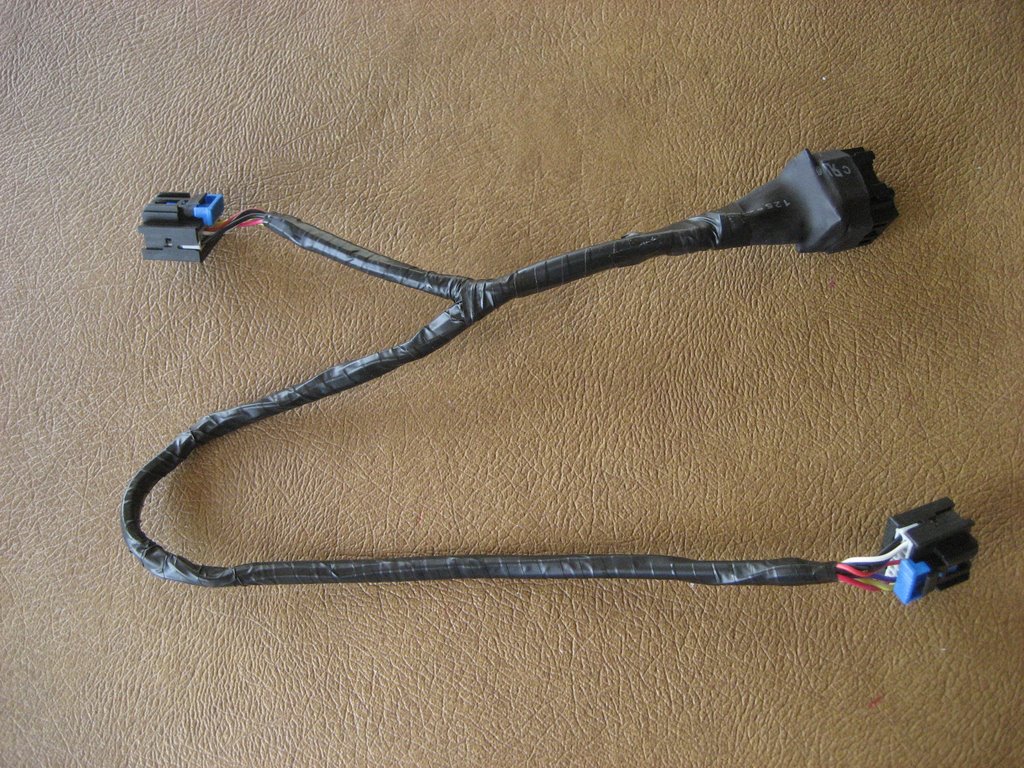 This "Premium" harness is electrically identical to the standard harness in the previous photos. You can read about it on the link above the photo. Please add $20 if you choose this alternative.
Basic PAL kit cost:
The cost for the basic PAL kit as described above is $185, which includes Priority Mail shipping to any U.S. address. Shipping for Canada and most foreign locations will be an additional $15 for Priority Mail or $30 for Express Mail. You can add or subtract component costs as noted above.

Click here for an Ordering page for the new PAL kits, components, and other harnesses.
---
Compare this to the cost of the original PAL:
You can find the original PAL at some suppliers for as little as $139. While that may seem like a bargain, consider what you are getting and how you will be installing it. The original PAL kit includes a GM harness that forces you to tear into your Vette with a grueling 5 hour installation process - it's pretty darn awful! You have the option to purchase one of my simple XM installation harnesses to make it a 10 minute installation, but that will cost you another $40. So now you are up to $180. Also included in the original PAL kit is an iPod cable that won't even charge the latest iPods and iPhones. Again, you can purchase my new iPod cable that WILL charge the latest iPods and iPhones, but that will cost you another $25 plus shipping. So now you are up to over $200. Finally, you will still have the original PAL software that doesn't allow you to use the Auxiliary In feature of the PAL or Direct Mode (allowing you to control your iPod from the iPod itself). So you end up paying more money for less features.
Click here for a comparison between the original PAL available from GM and the Version 2 PAL kits
---
Individual Components:
If you have an older PAL kit and want the new 8' iPod cable with 5 volt charging for the newer iPods and iPhones, I can offer these for $25 plus $5 for Priority Mail shipping ($30 total).
I now have these new cables in stock.
PAL Software Upgrades:
Owners of the original (Version 1) PAL they purchased from a GM dealer may be interested in upgrading to the latest revision of software. The latest revision now includes the new Direct Mode and Auxiliary Input, a PAUSE button, and other user friendly display features, as well as some fixes for owners of hard format hard drive iPods. The upgrade program will require you to ship me your original PAL module (only) and once I receive it, I will upgrade the software and return the module to you via USPS Priority Mail. I can usually do this the same or next day after I receive your module, but always check on the ordering page to make sure I'm in town when you ship your module.
The cost for the upgrade is $35 plus $5 for Priority Mail return shipping.
You can order on the Ordering Page when you ship your module.
Click here to see a one page operational supplement for the new software.
---
Note for those owners who do not have XM
These new PAL units will work without XM, but installation will be different for you. There are two situations:
1. No XM receiver, but you have the XM harness in your car.
You can check to see whether you have the XM harness by pulling back the carpet above the left rear wheel well on coupes and Z06s. In a convertible, the XM receiver location is behind the waterfall between the seats. If there is an XM harness, it will have a 16 pin connector like this: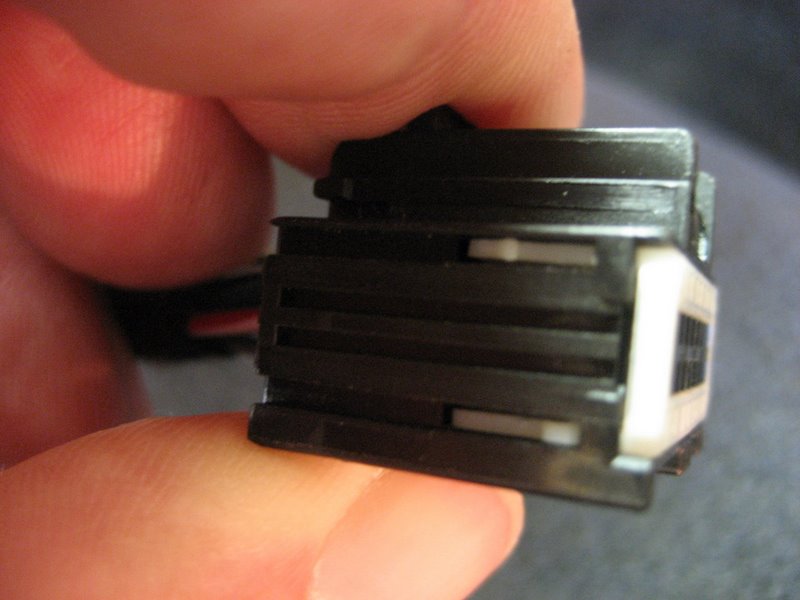 or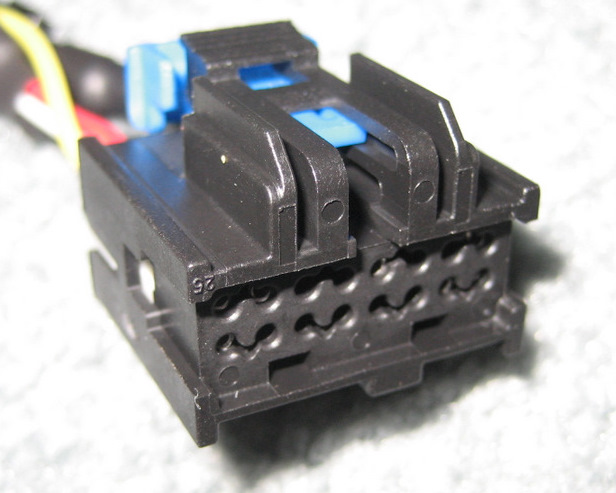 The top connector is made by Yazaki and is used in later C6s.
The bottom connector is made by Delphi, used in the earlier C6s.
In this case, you will have the Yazaki or Delphi 16 pin connector shown above, but no XM receiver to connect to. So I'll send you this installation harness: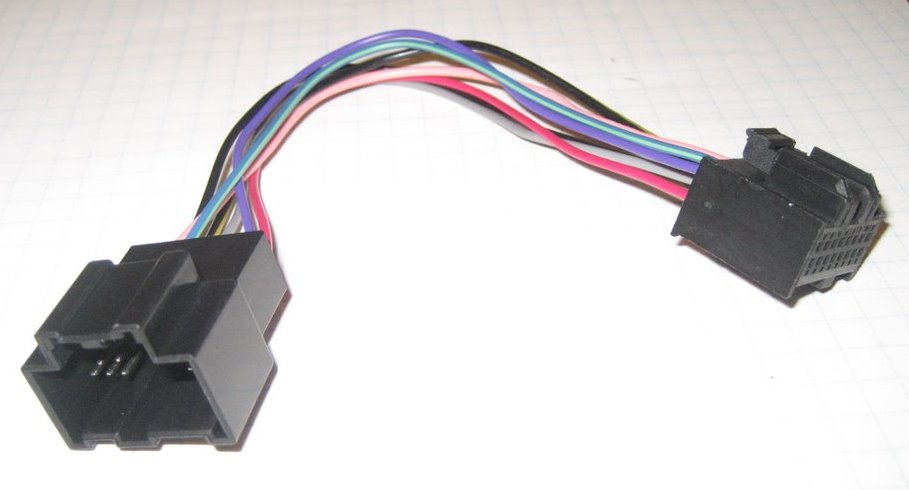 This will be very simple to install, because all you will need to do is connect the left end this harness to the XM body harness connector (Yazaki or Delphi) and the right end to the PAL module.
Here are some photos of the XM harness in a 2005 C6 convertible:
(photos courtesy of forum member Granger Tam)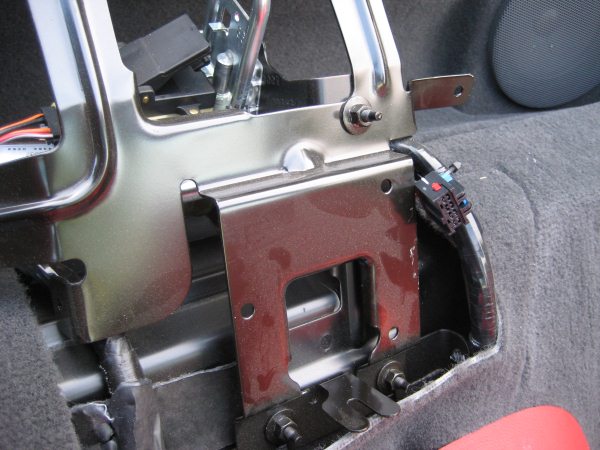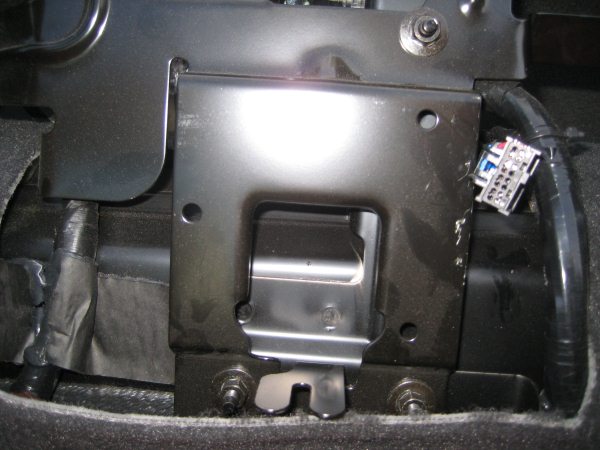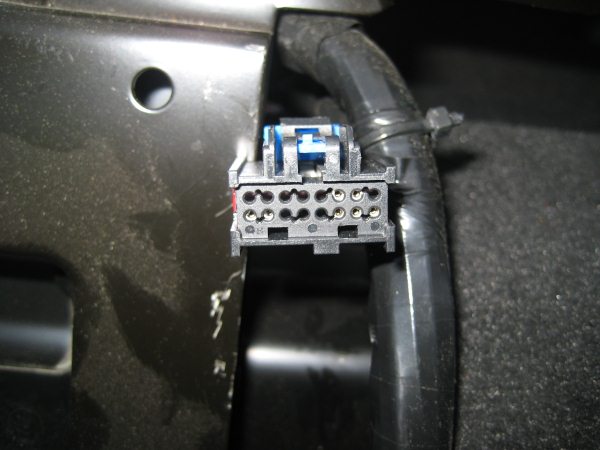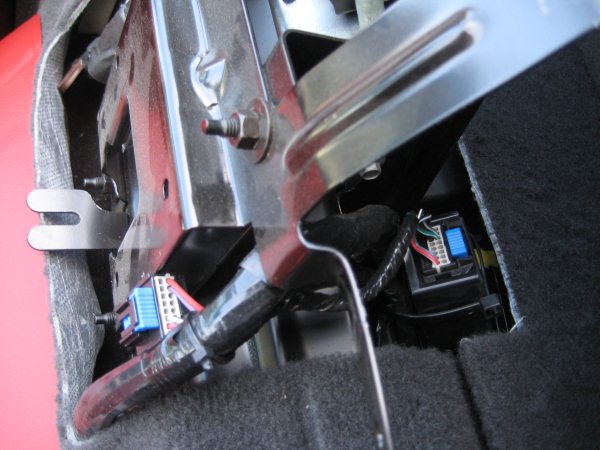 The photo above shows that not only does this convertible have the XM harness, it also has the optional 6 CD external changer.
The changer harness has a female connector into which the male XM connector (Delphi in this case) plugs (shown on the right).
The changer harness also has a male connector, shown on the left, to plug into the XM receiver (which is not installed).
This male connector can be used for the PAL installation with the adapter harness that I supply.
Whether or not you have the changer, if you have the male 16 pin connector, you can install a PAL.
DON'T give up looking for it - it can be easily missed when it is taped to the harness with black electrical tape!
Here is the XM harness and connector in an '05 C6 coupe: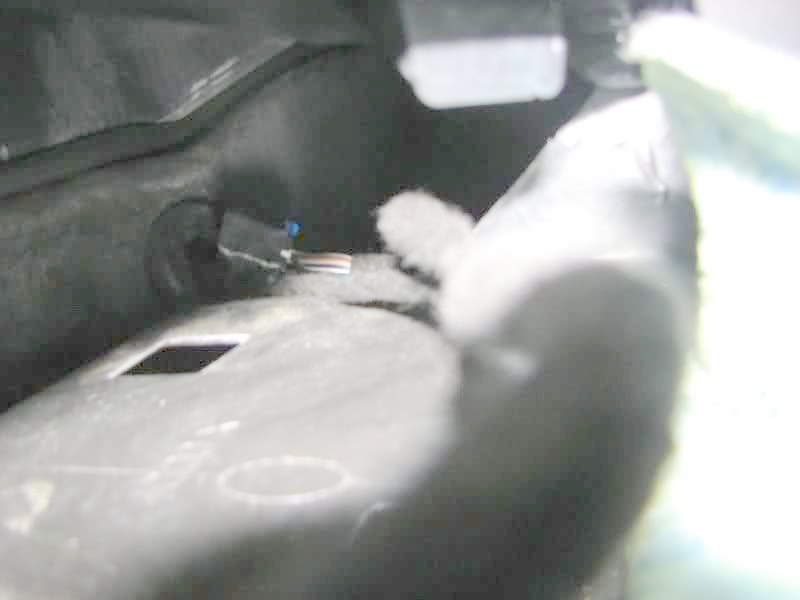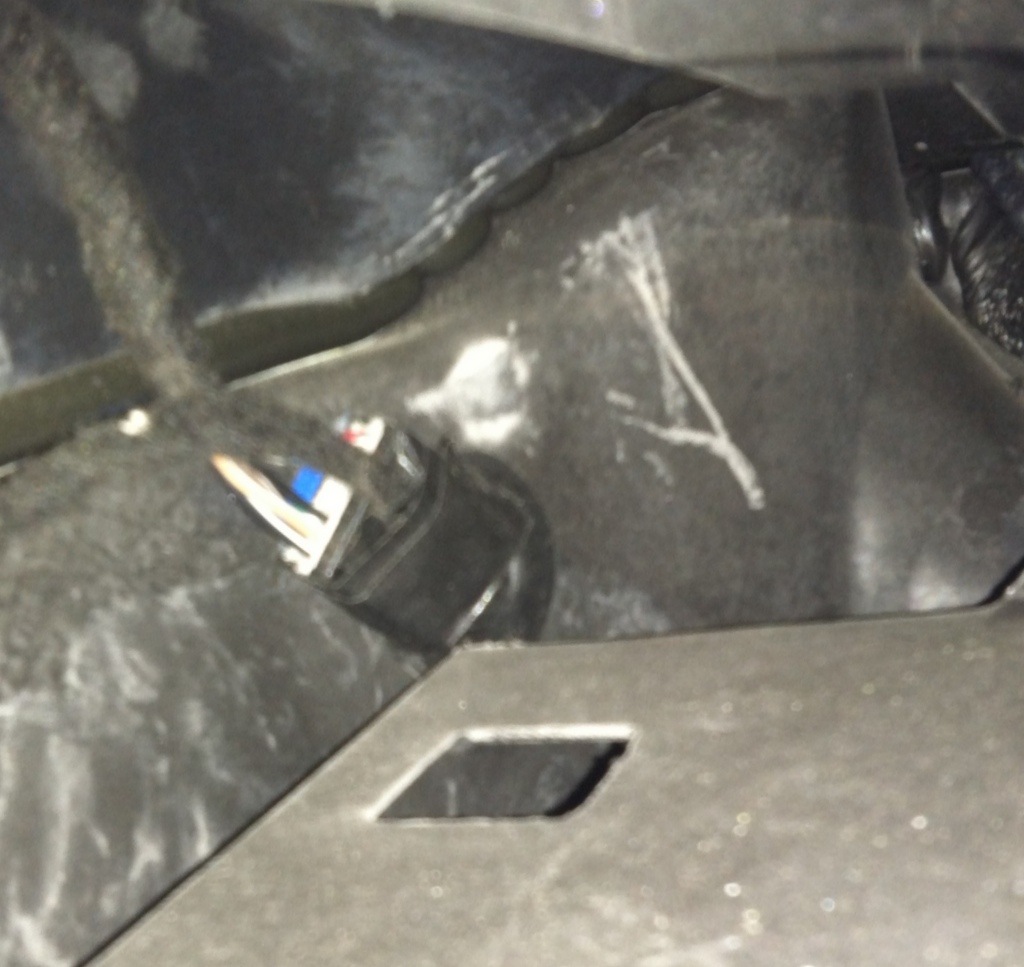 Note these can be hidden pretty well, often covered with black electrical tape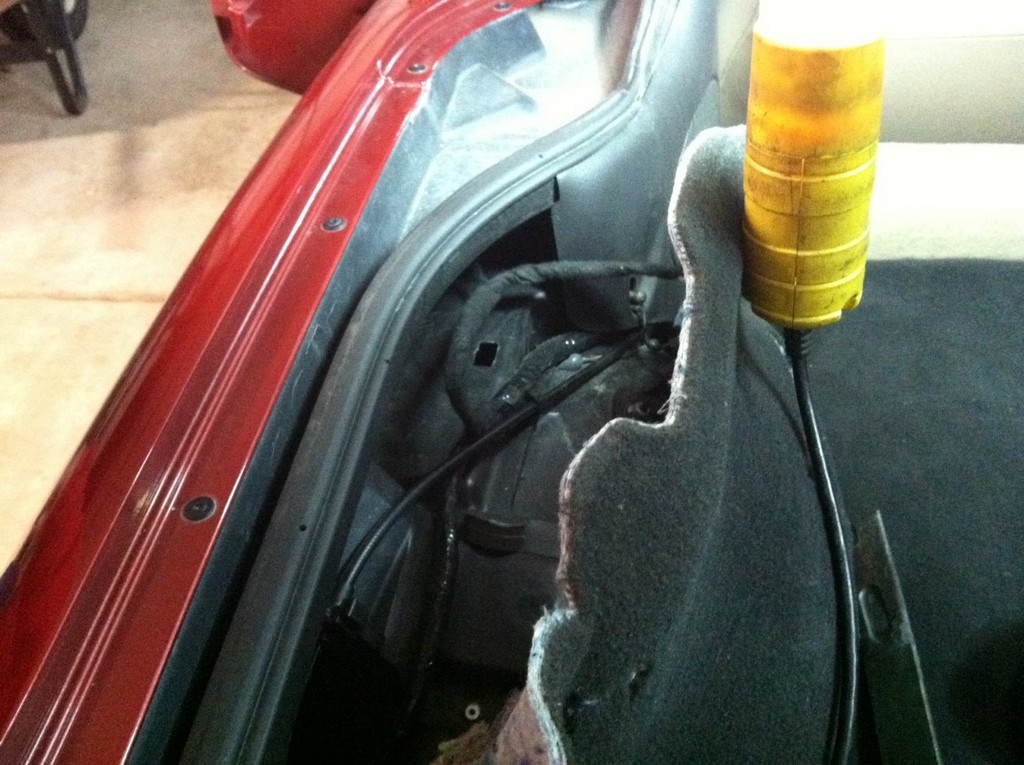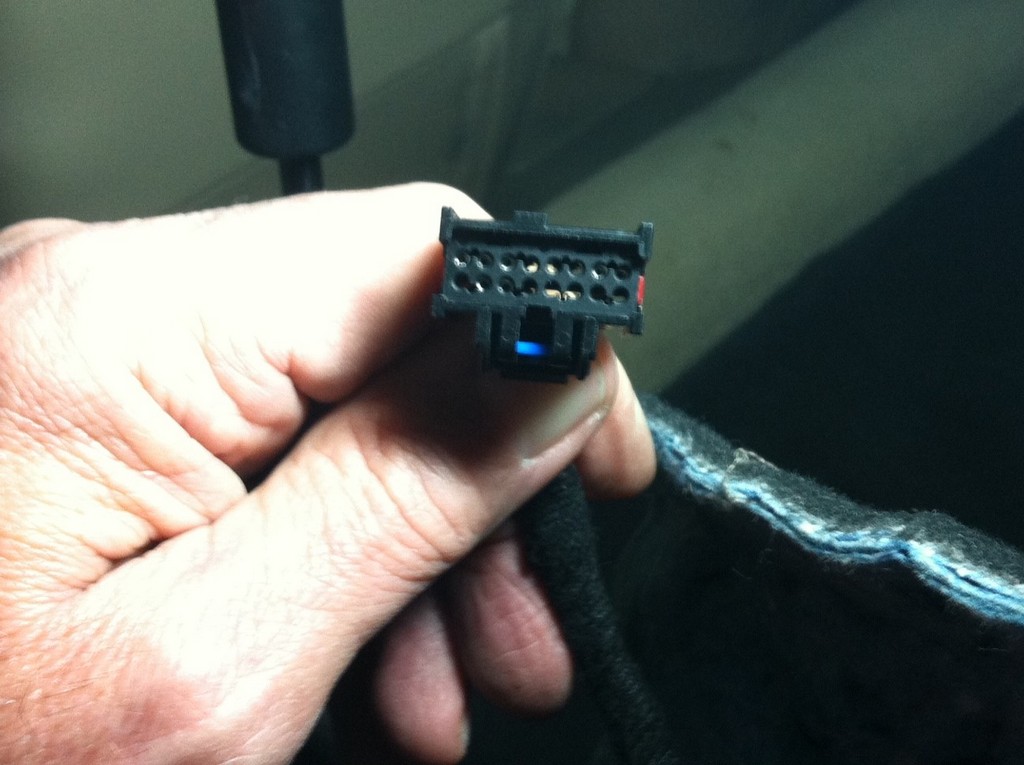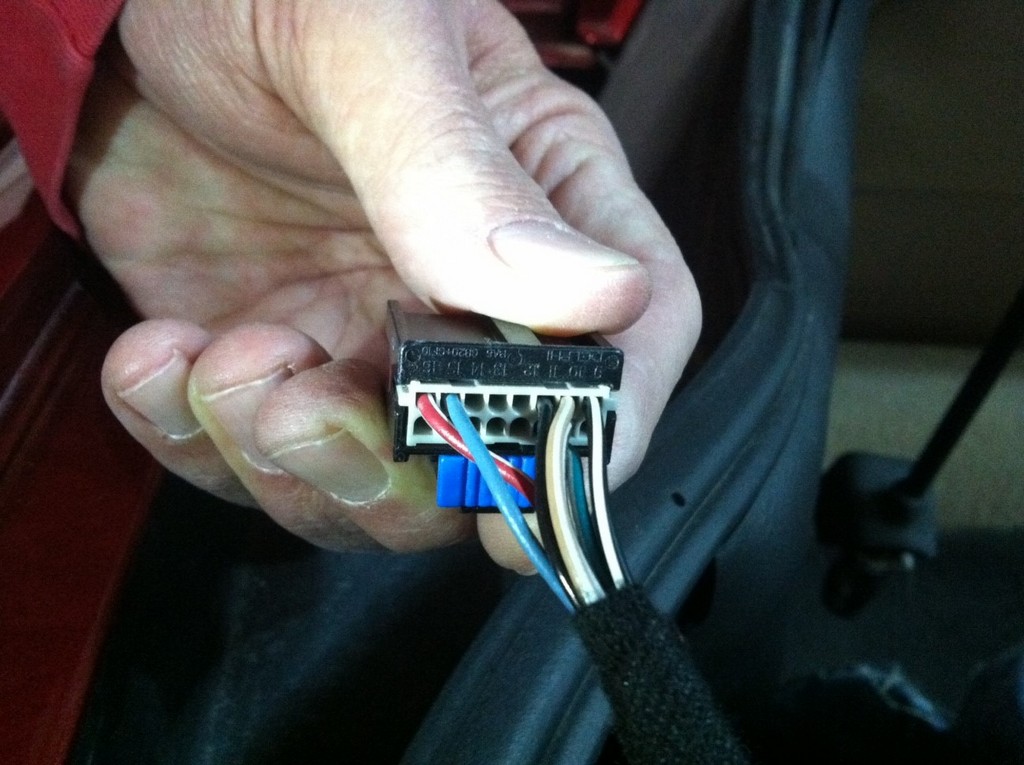 Above photos courtesy of Steve McKinney, Fishers, IN
---
2. No XM receiver and no XM harness in your car.
If you do not have the XM harness, you will have to connect your PAL at the back of the radio. In this case, I will send you an installation harness that looks like this: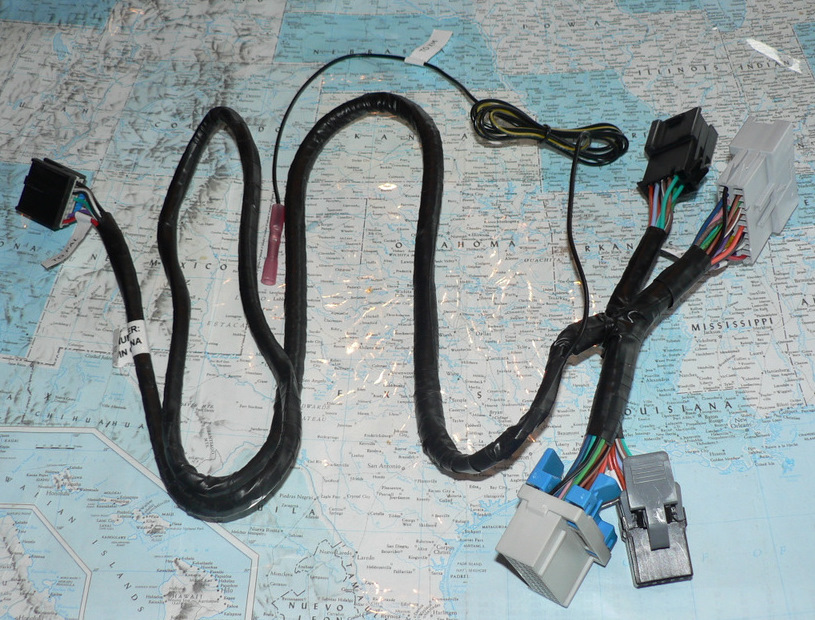 The connector on the left plugs into the PAL module. The two connectors on the bottom right plug into the back of the radio or Nav unit, after you unplug the two connectors already in the radio and then plug them into the two connectors at the top right.
You will NOT have to connect the black/yellow XM wire, which was needed for the original PAL with an XM receiver.
To get to the back of the radio or Nav unit, you will have to remove the center console.
Once the console is out, there are four 7mm screws that hold the radio in place.
---
---
I'm still researching this issue, but here is what I THINK is the situation for the various years of C6s:
For 2005, most, if not all, models have an XM harness, even if the car was not equipped with XM.
For 2006-2007, XM was an option, and those models without XM may not have the XM cable. It could be that only upper trim levels may have it, or certain radio options, but I don't know for sure.
For 2008 and later, XM was standard so all models will have an XM receiver and, of course, the XM harness and connector.
---
---
---
Note for Auxiliary In Users
The Operating Manual will show how to activate the Auxiliary In feature, which allows the two RCA jacks to become active. You will need a cable to connect your music device to the RCA jacks. Depending on where you decide to mount your PAL module and where you decide to keep your music device, you will need to choose a length for this cable. I suggest a 10-12' length for most coupe/Z06 owners and 6' for most convertible owners should work pretty well. These cables are commonly available at stores like Radio Shack and many others. Here are a few links to give you an idea of what to buy:
http://www.radioshack.com/product/index.jsp?productId=3452165
http://www.radioshack.com/product/index.jsp?productId=3449315
Another excellent online source for cables is Monoprice.com. They have an amazing assortment of various kinds of cables, and their price and quality can't be beat. Here's is their link:
http://www.monoprice.com/products/product.asp?c_id=102&cp_id=10218&cs_id=1021804&p_id=5599&seq=1&format=2
---
Click here for the Original Owners Manual in .pdf format
Click here for the Version 2 Nav PAL one page supplement to the Original Owners Manual in .pdf format
Click here for the two page Version 2 non-Nav PAL Owners Manual in .pdf format
Click here for Installation Sheet for XM equipped C6 Corvettes in .pdf format
Click here for Installation Sheet for XM equipped C6 Corvettes using the Premium Harness in .pdf format
Click here for Installation Sheet for C6 Corvettes without an XM receiver but with an XM body harness in .pdf format
Click here for Installation Sheets for C6 Corvettes with no XM body harness in .pdf format
---
Click here for:
Frequently Asked Questions about the GM PAL (Personal Audio Link)
If you have additional questions, you can email me at ray@kawal.net
---
---
---
Click here for my other C6 modification websites: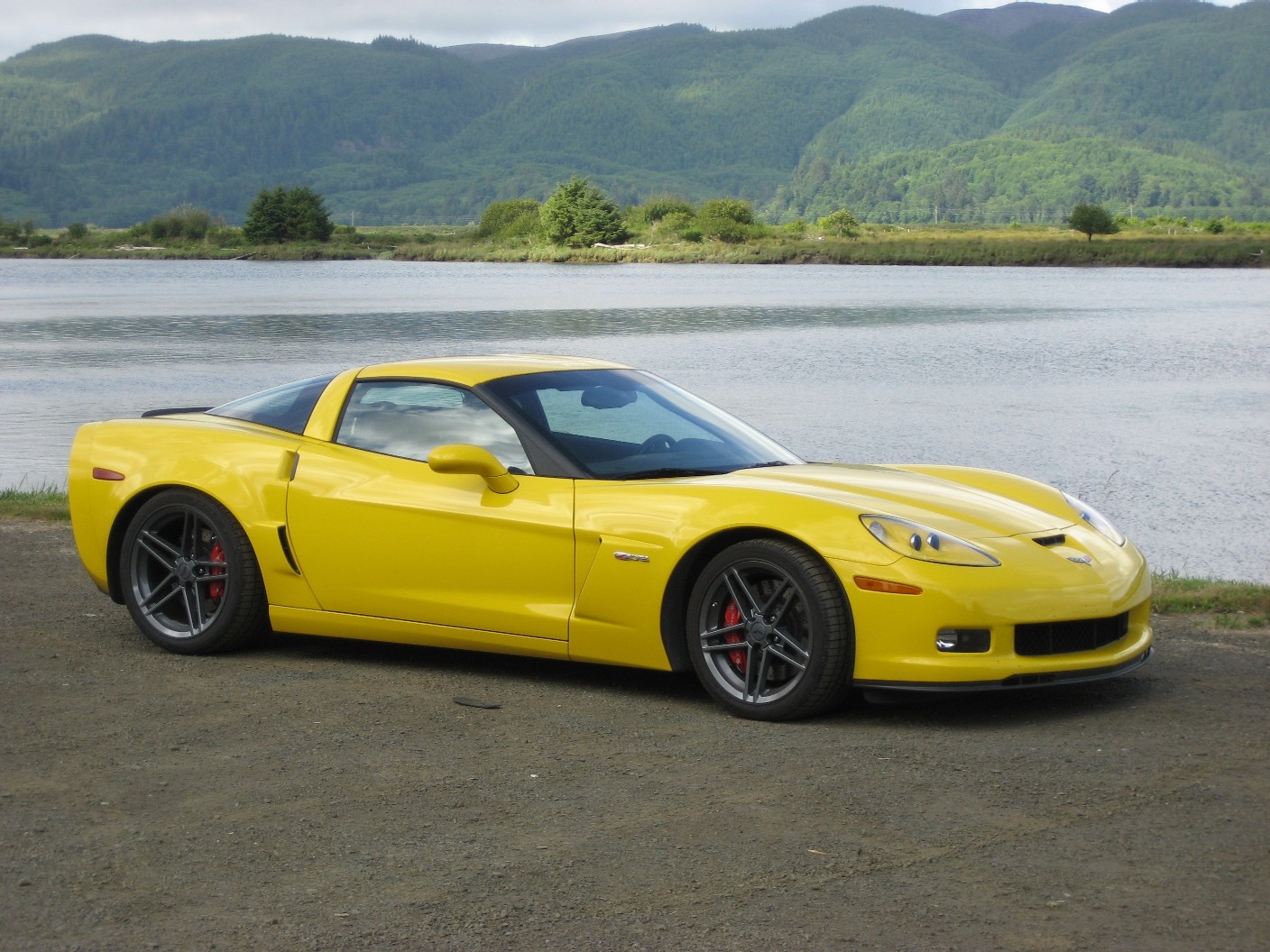 ---
---